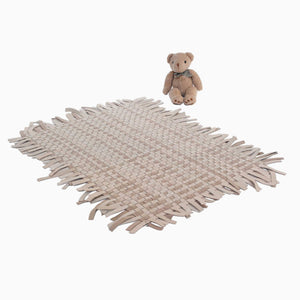 feltrando
Rug M / Mixed Shades
Sale price Price €236.00 Regular price Unit price / per
Tax included.
Product reference : 1000
Hand interlaced Feltrando felt rug. 
Hand interlaced felt, using a technique traditional in northern Portugal.
1 colors - mixed Clear Beige.

Free Shipping / 2 - 3 weeks for delivery.
DESCRIPTION 
Design by Feltrando, mostly from wool felt, a natural, durable, resistant material, which makes it a sustainable option.
Our Mixed Shades M rug, combines soft shades of the same colour. The hand interlacing results in a homogenous pattern, for a relaxing and welcoming atmosphere in your home.
Our Feltrando rugs, being rectangular shaped, are adaptable to any room in  your home, be it the living or bed rooms. They are hand interlaced, with soft touch reused felt, for real comfort at your feet.

MATERIAl : wool felt from industrial waste.
WEIGHT : 1152 g / 2,540 lb
SIZE : 112 X 90 cm / 44 x 35,4 in
We will do our best to ship all purchases as fast as possible. A shipment starts as soon as an item  is sent to our delivering partners, who will get it to our shoppers.
If you are interested in an item, but in a different colour, just email us at feltrando.portugal@gmail.com